Helping Clients Update Their Online Image
This client had a website from the 1990 that was not mobile friendly, had elements of flash integrated, and was basically not getting any attention from search engines.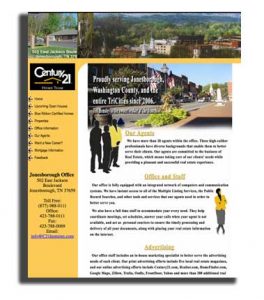 The old website had served them well until mobile took over.
Many business owners are not aware that search engines and website hosts have website management criteria that owners need to keep in mind when trying to attract customers. Using the latest technology is very important today.
Old 1990 applications like Adobe Flash these days gets injected with malware and visitors suffer. Forbes website is a great example.
Now this real estate firm has a re-designed website that utilizes the latest technology, is mobile and tablet friendly.  Social media was also integrated so local prospects will find them easier.
This is only the beginning – this client is learning how to use this new tool and attract more prospects 24/7.